I often have the privilege of sharing resources with my clients, colleagues and the business community that benefit everyone involved.  This month's highlighted resource is Living Opportunities and the services they offer area employers.
Living Opportunities, Inc. is a Rogue Valley not-for-profit service agency providing residential and vocational support to people with cognitive disabilities.  Our vocational program is designed to fulfill labor needs for employers while providing meaningful employment for the individuals Living Opportunities represents. Serving our community since 1974, we have gained national and state recognition as a model program.
Employment services include:
JOB ANALYSIS – Resulting in a comprehensive position description that clearly describes job duties and skills along with the employer's quality and production criteria.  We will also work with you to identify tasks that are currently in the job description of another employee that might become a new job for a Living Opportunities individual in order to free up existing staff to focus on their primary job duties.
APPLICANT SCREENING – Each individual that enters into Living Opportunities employment services experiences 5-6 different employment opportunities to determine their skills, interests, and talents.  This allows us to match your company with a qualified, motivated, reliable individual who will enjoy being a productive member of your team. We ensure there is a good match for employer and employee.
ON THE JOB TRAINING – A qualified job trainer will first learn the job duties, and then provide the initial training until the new employee meets the employer's standards.  At that time, the trainer will apprise the employee's supervisor and co-workers of strategies for providing support.
SYSTEMATIC EVALUATION – We will assure that the employee's job performance is maintained to meet your standards.
ONGOING TRAINING & FOLLOW-UP – Continuous training and follow-up by Living Opportunities staff is included. At the employer's request, we can expand job duties and/or skill refinement.  Again, a Living Opps job trainer will be integral to this process for both employee and employer.
We provide a WIN-WIN partnership
for your company!
Many employers either don't know about us, the programs we offer or that people with developmental disabilities can be great employees.  We offer customized employment (we "carve" jobs to fit the needs of the employer and find the right match for their needs and provide training free of charge), as well as both janitorial and landscaping crews to help local businesses maintain a professional image.
Here are a few organizations that are benefitting right now
 Valley Immediate Care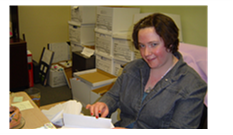 Valley Immediate Care, a partner with Living Opportunities since 2008, employs two individuals that we serve. Tara works inthe administrative office scanning and filing documents, mailing of statements and assisting with other administrative tasks.  Julie provides the centralized laundry service for the clinics, helps with mailings and assists with other office duties.  The Executive Director Brent Kell says, "Working with Living Opportunities has been awesome and a huge benefit and asset for our staff and organization."
Walgreen's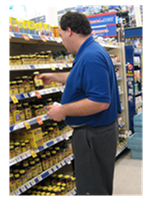 Jacob is a service clerk for Walgreen's working on freight day to put inventory on the shelves and verifying inventory numbers as the items are arranged. He also provides customer service while on the floor. Jacob has been at Walgreen's since 2008 and the store manager says he has had a wonderful effect on the team culture in his store.  Jacob is efficient and performs his job duties with a higher level of accuracy than some others on the team.
The City of Medford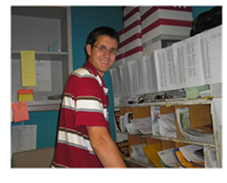 Eric has worked at City Hall since 2006 as their mail clerk. He is responsible for the complex job of sorting, metering and delivering mail.  He works five days a week for about 4 hours per day.  Eric's supervisor says that he is a wonderful asset to City Hall where he has become a valued member of the team.  He loves his work and always has a smile.  In fact, he made Valentine's cookies for staff members and wrote them each a personal thank-you note for allowing him to work with them.
For more information on how your organization can benefit from a partnership with Living Opportunities contact us today.
Visit http://www.livingopps.org/
Phone (541)772-1503
 Follow us on Twitter: twitter.com/LivingOpps
Like us on Facebook: facebook.com/livingopportunities
See us on YouTube: youtube.com/LivingOpps